This opportunity was posted on November 25, 2021
[ Cancelled ]

Long term partnership in the western Caribbean Guatemala to Panama

ref 13192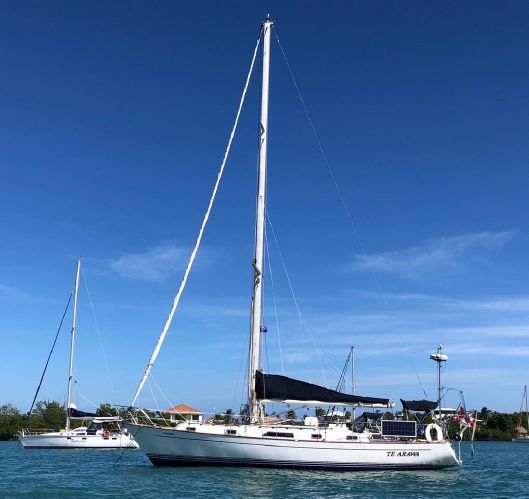 wants 1 crew for Te Arawa, Passport 41, m.
From Rio Dulce, Guatemala to Bocas del Toro, Panama.
January 2022 to July 2022.
What roles/experience are needed (Crew 1): does not matter
Sailing with a Rally: None
I'm looking for (gender): either
Cabins/Sleeping : own cabin-own bunk
Smoking on board: non-smokers only
Total people on board: 2
Crew roles: After a very long process looking for the right sailboat, I'm finally going to start my sailing journey in January and I'm looking for a partner to join me on my boat. She's a very reliable and well equipped/maintained boat. I've been working on her for a few weeks now and soon she'll be back in the water (Rio Dulce, Guatemala) to finish our preparations. I don't have many plans for destinations/timelines as my main goal on this stage is to gain more confidence as a sailor (but obviously enjoying as much as possible). In those 3 weeks that I've been working on the boat, I've been very fortunate to nearly always have people around to ask for advice or just bounce ideas off of, which made the process a lot more enjoyable, and it'd be great to be able to do that after I cast off as well. That's why I'm looking for a partner who also knows a few (or many) things about sailboats/sailing and is interested in gaining more experience[1] while exploring some Caribbean islands. Ideally I'm looking for someone who can come to Rio Dulce before mid January so we could do some day sails in the lake before heading out into the big blue. From here, the closest/safest destination is Belize, where there are plenty of beautiful Cayes and sheltered anchorages. From there, it's also a relatively short trip to the Bay Islands in Honduras, which have some of the best diving in the Caribbean. From then on it'd be up for us to decide which direction to go: North to Mexico/Cuba, East to Panama, or somewhere else. With regards to costs, unfortunately I can't provide an estimate but we should be able to stay at anchor most of the time (I have a watermaker, solar panels and huge diesel/water tanks), so we should be able to keep it to a minimum. As for the duration, it would be completely up to us -- we do it for as long as we're both happy to keep the partnership! If this sounds interesting to you and you'd like to talk more, just drop me a line! [1] If you're already an expert and is more interested in having fun but also willing to share your experience, I certainly wouldn't mind!
Money: daily contribution from crew $15
Travel to and from boat: crew pays
Other Info: