This opportunity was posted on April 21, 2019
[ active ]

Ionian, Greece Greece to Greece

ref 11112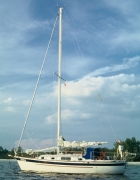 Barbara Molin wants 1 crew for Eidos, EO32, 9.57m.
From Lefkas, Greece to Agios Nikolaos, Greece.
June 2021 to October 2021.
I am planning on sailing from the Ionian to Crete beginning in May or June until October, 2021. We will very likely go through Corinth Canal and then sail along the eastern coast of the Peloponnese, day sailing and stopping along the way to enjoy the culture and ancient sites. Seeking experienced person, retired and free to stay for the entire time, who is not in a rush to catch a flight. Weather and lockdown dependent. Must be non-smoking.
What roles/experience are needed (Crew 1): Watch-leader
Sailing with a Rally: None
I'm looking for (gender): male
Cabins/Sleeping : own cabin-own bunk
Smoking on board: non-smokers only
Total people on board: 2
Crew roles: Must have overnight passage experience.
Money: expenses shared equally
Travel to and from boat: crew pays
Other Info: