This opportunity was posted on July 21, 2020
[ active ]

SOUTH PACIFIC AUSTRALIA Australia to Australia

ref 12432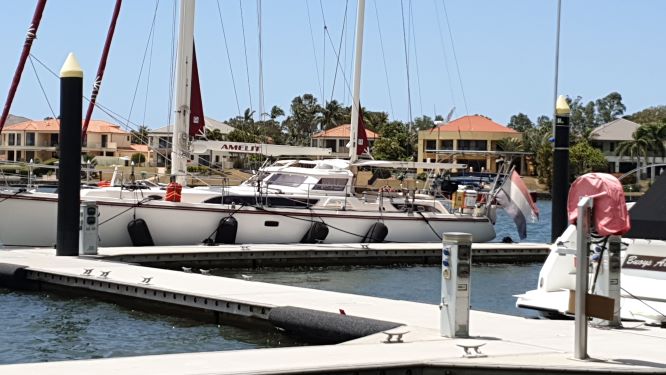 Teunis BAAS wants 1 crew for AMELIT, AMEL 54, 16m.
From COOMERA, Australia to COOMERA, Australia.
March 2021 to December 2021.
I am semi-retired Dutch national residing in USA and since 2017 cruising the SOUTH PACIFIC; long term goal either to sail via INDIAN OCEAN towards MEDITERRANEAN or maybe back via FRENCH POLYNESIA and HAWAII towards the SEA OF CORTEZ MEXICO. Right now (Sep 2020) I am COVID-19 stuck either in ARIZONA or traveling on my motorcycle thru USA while the boat is in storage on the hard in COOMERA QLD AUSTRALIA. I appreciate all the interest to crew but realistically, at this point, It is really premature to concretely discuss crewing as OZ does not allow entry to non citizens/legal residents. All indications are that this will not change before March/April 2021 - maybe even later. However, for potential crew living in USA, I like to use this situation to get to know potential crew better and maybe, COVID permitting, meet each other while I am - COVID safe - roaming all over USA. I am a "pescatarian" but have no problem with others having an unrestricted diet; I do eat meat a couple of times a year. My plan is to have NO plan other than enjoying cruising the boat for 8 or 9 months a year then I travel back to USA to visit my kids; stay @ home in AZ or TX and/or travel around USA & MEXICO in my coach, car or motorcycles. I am not a diehard fanatic sailor; when I am enjoying my life in USA/MEXICO/EUROPE I don't miss the boat but when I am on the boat I don't miss my life on land in USA. The boat is in perfect condition; well maintained & in tip top shape; rigging being inspected & surveyed every year. To complement my care for the boat the choice of crew is very important to me so I will take care and effort in getting into contact, to find out if there is a proper match - for me and vice versa. Good & clear communication on board, good team spirit, valuable eye to eye interaction & discussion with the entire crew is important to me but also the absence of any discussion when the skipper gives commands; debriefing/explanation afterwards ...... always possible.
Teunis is currently based in PHOENIX, United States
What roles/experience are needed (Crew 1): does not matter
Sailing with a Rally: Independent
I'm looking for (gender): female
Cabins/Sleeping : own cabin-own bunk
Smoking on board: non-smokers only
Total people on board: 2
Crew roles: I would like somebody on board who understands & enjoys the cruising life style: pls realize we are cruising NOT racing nor delivering a boat - we are not constantly adjusting & trimming sails to get better/maximum performance out of the boat. If we like where we are - we stay; if we don't then we go on. Somebody capable holding their own opinion w/o being argumentative; being able to have a good discussion etc. I am not really good at meaningless small talk; prefer an "intimate" silence while reading a book (I read a lot) etc. over just senseless blabbing. Hahahahaha - maybe not nice to say but straight forward to avoid misunderstandings. That said it is extremely important to me to be able to laugh & have fun while doing this cruising; the main purpose, after safety, is to have a good time. Somebody able & willing to participate in every aspect of cruising: watches, provisioning, navigation, cleaning, cooking, maintenance etc. I like somebody on board who truly understands & likes boat life as in not to waste (hot) water & electricity, understands & accepts it is not cool to wear street shoes (especially with black streaking soles) on a boat . I know this sounds puny, especially since the boat is completely self supporting; we have excellent water maker, diesel & wind generators as well as solar on the boat so we do have all the water & electricity we need on board but still should not waste. Sharing good experiences on board is as important to me as good sailing, diving, snorkeling, kayaking, the stars above at night, the smell of the ocean, and the sound of the wind and the waves. Captain will pay for all boat related expenses; daily victuals are shared expense.
Money: expenses shared equally
Travel to and from boat: negotiable
Other Info: