This opportunity was posted on February 13, 2020
[ closed ]

Shetland and Faeroe Islands Sweden to Sweden

ref 12231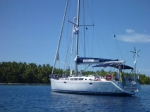 Hans Hansell wants 2 crew for Working on a Dream, Sun Odyssey 49, 15m.
From Gothenburg, Sweden to Stockholm, Sweden.
July 2020 to August 2020.
This sailing opportunity starts in Gothenburg, Sweden, and takes you via Norway to the Shetland and the Faeroe Islands and maybe beyond. We will follow the viking routes and start the trip in the Swedish west coast archipelago, cross over to the southern tip of Norway, Lindesnaes, and continue up the Norwegian coast line to the iconic Utsira island and lighthouse. From Utsira we sail towards the Shetlands Islands and after some island cruising we continue to the Faeroe Islands. The return voyage will maybe be more direct towards Denmark and Sweden. After coming back to Swedish waters the cruise will continue around the Scandinavian peninsula, through the Sound, up the Swedish east coast and finish in Stockholm.
What roles/experience are needed (Crew 1): does not matter
What roles/experience are needed (Crew 2): does not matter
Sailing with a Rally: None
I'm looking for (gender): either
Cabins/Sleeping : own cabin-own bunk
Smoking on board: non-smokers only
Total people on board: 4
Crew roles: I am looking for a younger crew. A couple is also fine. Crew is expected to participate in all activities on board such as fore deck work, helming, trimming, cooking, maintenance etc. Crew should have good sailing knowledge and be able to stand watch alone. Sailing experience is thus required but not necessarily ocean crossings. Captain pays all costs related to the boat but crew is expected to share costs for groceries. Welcome!
Money: captain pays all expenses
Travel to and from boat: crew pays
Other Info: