This opportunity was posted on September 12, 2022
[ closed ]

Offshore Ocean Adventure Sailing |Netherlands – Madeira| Milebuilding with Adventure, Impact & Community 1700 NM on Classic Schooner | October '22 Netherlands to Madeira

ref 13786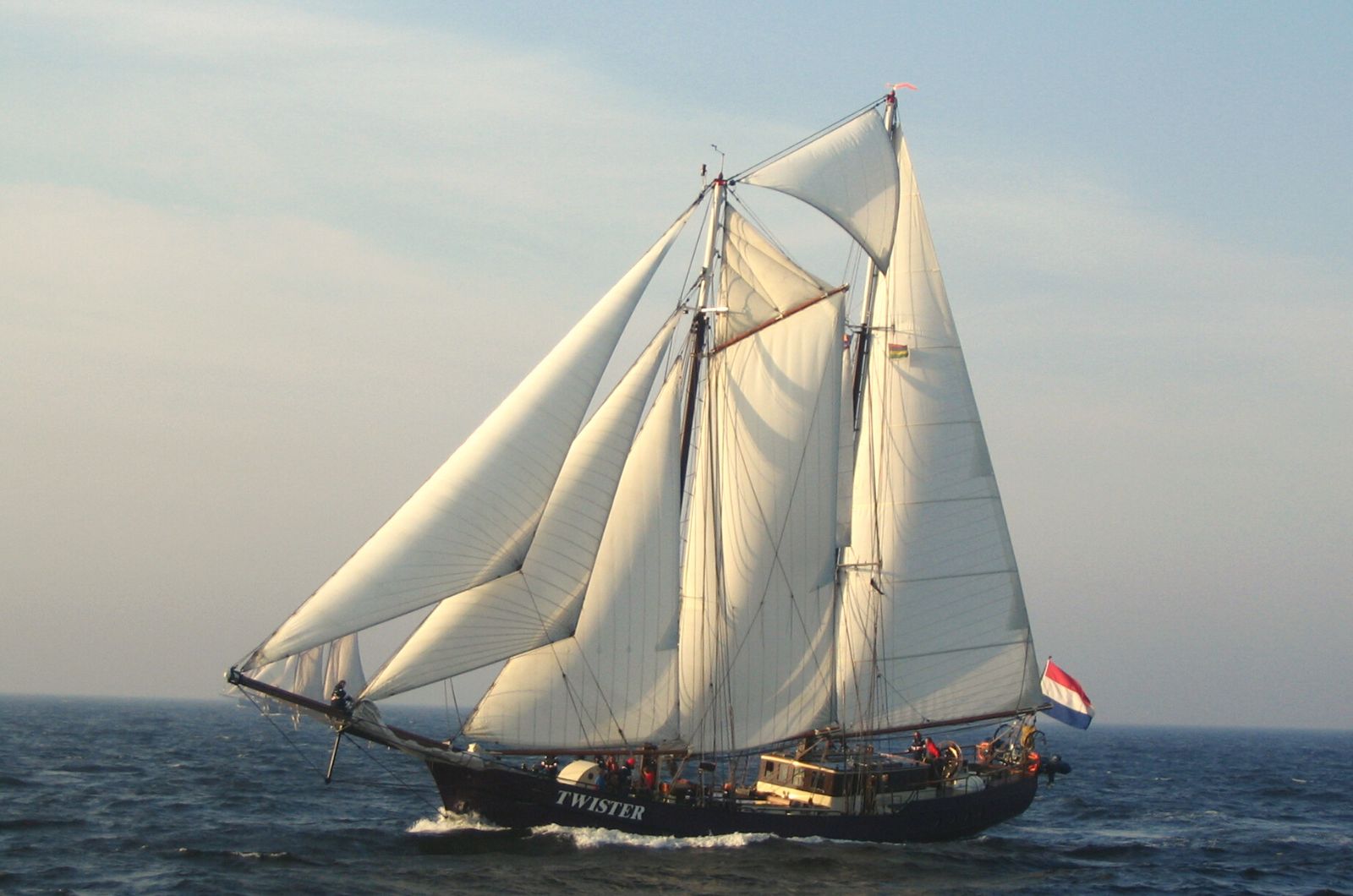 wants 5 crew for Twister, Custom Built Schooner, m.
From Amsterdam, Netherlands to Quinta do Lorde, Madeira.
October 2022 to November 2022.
Conscious travelling, high safety standards, vegetarian, maximum learning, workshopping, careful like-minded but diverse (all ages, multitude of skills) crew member selection, and hands-on action and exploration are some key words defining our trips, and what makes ON trips different than anything else out there. Ocean Sailing with Adventure, Impact & Community. After a successful collaboration last year, this autumn 2022 we are sailing again from the Netherlands to Madeira and Madeira to the Canary Islands (And the Atlantic crossing!) onboard Twister, a classic 36 meter schooner originally built in 1902. You can join one leg or both, or even more across the Atlantic with us. About Leg 1 A hands-on 1800 nautical miles voyage for life, together with a likeminded bunch of Ocean Nomads. We are a mix of entrepreneurs, alternative lifestyle seekers, self sufficiency enthusiasts, and water sports fanatics. Driven by passion and purpose for the love of the ocean, we explore the exciting and natural ways to travel oceans and create regenerative lifestyles. We schedule 3 weeks for the voyage. We want to sail as much as possible, not engine. Weather depending we go straight, or may make a stop in the UK, France or Spain. EXPERIENCE - LIFESTYLE - TRAVEL - PURPOSE - CONNECTION - NATURE We've tested Twisters sea worthiness, met the lovely owners, skipper, and mate, and experienced the performance and potential of this vessel. She's beautiful. She's solid. She's big. She's spacious. She's super comfortable. She's got soul. She lasts. We're super excited to take her on an offshore voyage again this autumn. This is not just an expedition you join for a few weeks and that's it. This is an experience that will change the way you approach life, nature and the ocean. We believe our expeditions are just the beginning for plotting the next course in your life. By jumping on board this voyage, you will also join our expanding global network of impact-driven travellers, ocean entrepreneurs, sailors, (free)divers, surfers, and active salty souls passionate about the ocean and eager to do good. It's the people who make the trip and we walk the extra mile to get a diverse but like-minded adventure spirited bunch together. Estimated sea time +/- two weeks. WE FACILITATE AND ACCELERATE Adventure Slow travel by sail, powered by wind, ruled by nature. Offshore and remote. On a 100+ year old hands on classic ship. No electrical winches here. With a bunch of 'strangers,' Expect the unexpected! Community Expand your network with insight and inspiration. We walk the extra mile to unite your soul tribe members on board. Connection and conversation at sea goes deeper in one day than months on land. Skill Building Learn and expand your seamanship, sailing, navigation, resilience, conscious living, adaptation & social skills. Exchange skills and stories with fellow crew members Lifestyle Gather tips and tools, to accelerate your journey to alternative adventurous conscious life on or near the sea. Lifestyle designing by and for ocean nomads. Impact We strive for minimum negative and maximum positive impact with our preparation & execution. The difference is in the details. WE GO THE EXTRA MILE TO... Unite Likeminded Adventure People Throughout our expeditions we bring together a unique mix of inspirational individuals talents and knowledge of the group. We release the power from the individual talents and knowledge into the group, for maximum learning experience. We select participants based on motivation, drive, and mindset. For legs of longer than 10 days we additionally interview on the phone to make sure expectations are aligned. Make Ocean Adventure Accessible No sailing experience is required. We happily teach. We believe that if more people get a chance to experience the ocean and all the magic that comes with it, the ocean wins more hearts. We like for you to see for yourself how beautiful the ocean are. And hopefully ignites a superpower within you to take steps into a conscious nomadic life in or near the sea. Voyages range between 7 days and one month. From offshore sailing to crossing oceans to exploring remote paradise islands. We provide a platform for nature connection, community, research, creation, while going remote. No budget? We have a scholarship option too. Prioritize Safety The ocean deserves our greatest respect. Sailing remotely is an endeavour not to be taken lightly. Teaming up with Twister allows us to combine professionalism, safety, and adventure, impact and community facilitation. After three offshore collaborations, the only thing we broke were 2 plates. Many certificates are obtained and complied with to pass the safety checks and requirements to take people out offshore. This comes with a cost but the rewards are priceless. Offshore we keep contact and update relatives about the trip. It's a hands-on trip and everyone is expected to join al duties on board. It's ok to not have sailing experience. We also take professional crew and we'll be teaching it all. We can't wait for some serious sea time and we start with the sail from the Netherlands to the Canaries to just be connected to nothing but nature and an epic bunch of adventure seekers, lifestyle designers, ocean entrepreneurs, and eco-minded salty souls. Please note that to be able to do the trip a contribution is required. It's not cheap but it's really cheap for what you get and compared to anything with similar standards out there. With safety and careful value sharing crew selection high on our priority list. Please read the description as well as our profile, and website carefully to explore if it's for you, and matches your time and financial possibilities. Dates and prices are fixed for this expedition. If it's a hell yeah, we welcome your application! We'd love to chat with you on the phone to align expectations and see if we're a great fit. It's the people who make the trip :) Welcome on board! Team Ocean Nomads Ps. If the dates don't match, explore our other legs which may suit your possibilities. What does previous crew say? "Still smiling at the memories! Met – and still talking to – some lovely people. Refreshed my nautical skills (helming, navigation, astro identification, etc.) Shared some great experiences through conversation, music, stories, yoga, cooking together, seeing ocean wildlife, and so much more! "– Richard (Expedition ON 2021) "The experience on twister with other Ocean Nomads was just really beautiful and I felt connected for the first time in decades, I felt part of a community and had companionship. I was so happy that it's so all inclusive of gender race religion nationality and most importantly age. It has connected me with like-minded people of all ages and being very transformational personally because my life has been incredibly isolated as a single parent Who works from home. I can honestly say October and November I felt happy and free for the first time in maybe 22 years. It gave me everything I was looking for. It has opened up so many possibilities to meet new people with similar vibes, including connection, companionship, purpose and being one with nature." – Cay Netherlands – Canary Islands '21 "Last summer I had my first sailing experience on an Ocean Nomad Sailing Trip in Spain. I initially signed up for one week, but ended up staying 1,5 months, and sailed as part of the crew from Northern Spain to the Canaries Islands. On this trip, I met a lot of like-minded people with similar goals and dreams. I also realized that it is possible to learn sailing in a low-key, affordable way. After this trip, I got so inspired that I decided to buy my own sailboat. After some research, I decided to buy a previous sailboat of an Ocean Nomad friend that I just met, and together we sailed the boat from Ireland to Spain. Without Ocean Nomads this would not have been possible. So if you are slightly interested in sailing, the ocean, meeting like-minded people and perhaps want to join a sailing trip in the future, have a look into Ocean Nomads!" – Nadiem
What roles/experience are needed (Crew 1): does not matter
What roles/experience are needed (Crew 2): does not matter
What roles/experience are needed (Crew 3): does not matter
What roles/experience are needed (Crew 4): does not matter
What roles/experience are needed (Crew 5): does not matter
Sailing with a Rally: Independent
I'm looking for (gender): either
Cabins/Sleeping : shared cabin-own bunk
Smoking on board: non-smokers only
Total people on board: 15
Crew roles: Who's joining? It's the people who make the adventure. This is the main message Suzanne learned after having sailed 30.000 miles on +50 different boats. We carefully curate a diverse, multi-skilled crew who share a similar mindset, to create a powerful team mix. It makes the difference. We live beyond the status quo or desire to do so. We care for the planet. Minimize, simplify and cut down on our environmental footprint where we can. We lift each other up and support each other when in need. Are you? Adventurer & explorer Alternative lifestyle seeker Striving to do good Excited to share skills and stories Eager to learn, share and care Hands-on mindset Ambitious Then we're looking forward to hear from you! Important! We receive a tremendous amount of interest. Time is precious. Please explore our website to learn about the costs and expectation for this voyage before reaching out. To make these voyages real contribution is required. If it doesn't fit your budget, keep an eye for other similar valued trips we facilitate.
Money: voyage cost $2500
Travel to and from boat: crew pays
Other Info: