This opportunity was posted on November 30, 2020
[ Cancelled ]

New England Charter Crew 2021 United States to United States

ref 12595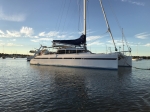 Sail the Blue LLC wants 1 crew for Cenou, Freydis 46, 14m.
From Newport, RI, United States to Newport, RI, United States.
June 2021 to July 2021.
Looking for crew knowledgable or relatively novice seeking experience with chartering and sailing, as well as getting time afloat. All non-sailing work ( cleaning, cooking, general maintenance) is shared with skipper. For sailing, crew will have four responsibilities: keeping an eye on traffic/crossing situations with knowledge of rules of the road when in close quarter (day sail charters only), handling of sheets and lines, reefing etc Part of daily tasks when day chartering will be to disinfect high touch area and assist guests with what they need to minimize guest entry into main cabin. Most charters are day sails out of Newport, RI and do not involve any meal preparations. Crew is expected to share the cooking. However crew may have to step in for cooking during multi-day charters. If there are several days between charters expect to sail and visit places (sometimes the same ones) but in any case, expect to sail a fair amount. This is a crew only position. Unable to change "relation status" on profile. Skipper is married and has two daughters in their 20s. If you are looking for more time onboard please look at the posting for the Nova Scotia trip from Late July to Late August.
Sail the Blue LLC is currently based in United States
What roles/experience are needed (Crew 1): Watch-leader
Sailing with a Rally: None
I'm looking for (gender): either
Cabins/Sleeping : own cabin-own bunk
Smoking on board: non-smokers only
Total people on board: 2
Crew roles: Looking for someone who is social, willing to speak with guests, clean and tidy. The crew must be in decent shape physically, able to go forward if need be in a seaway. Crew should be very familiar with rules of the road. Because of Covid crew is expected to be careful and not frequent bars etc. No drugs of any kind (not even cannabis with prescription) and only moderate drinking. US Citizens/Residents only.
Money: paid position
Travel to and from boat: captain pays
Other Info: