This opportunity was posted on September 19, 2022
[ closed ]

Madeira to Canary Islands on Classic Schooner | A combo of offshore sailing & Island exploration Madeira to Spain

ref 13799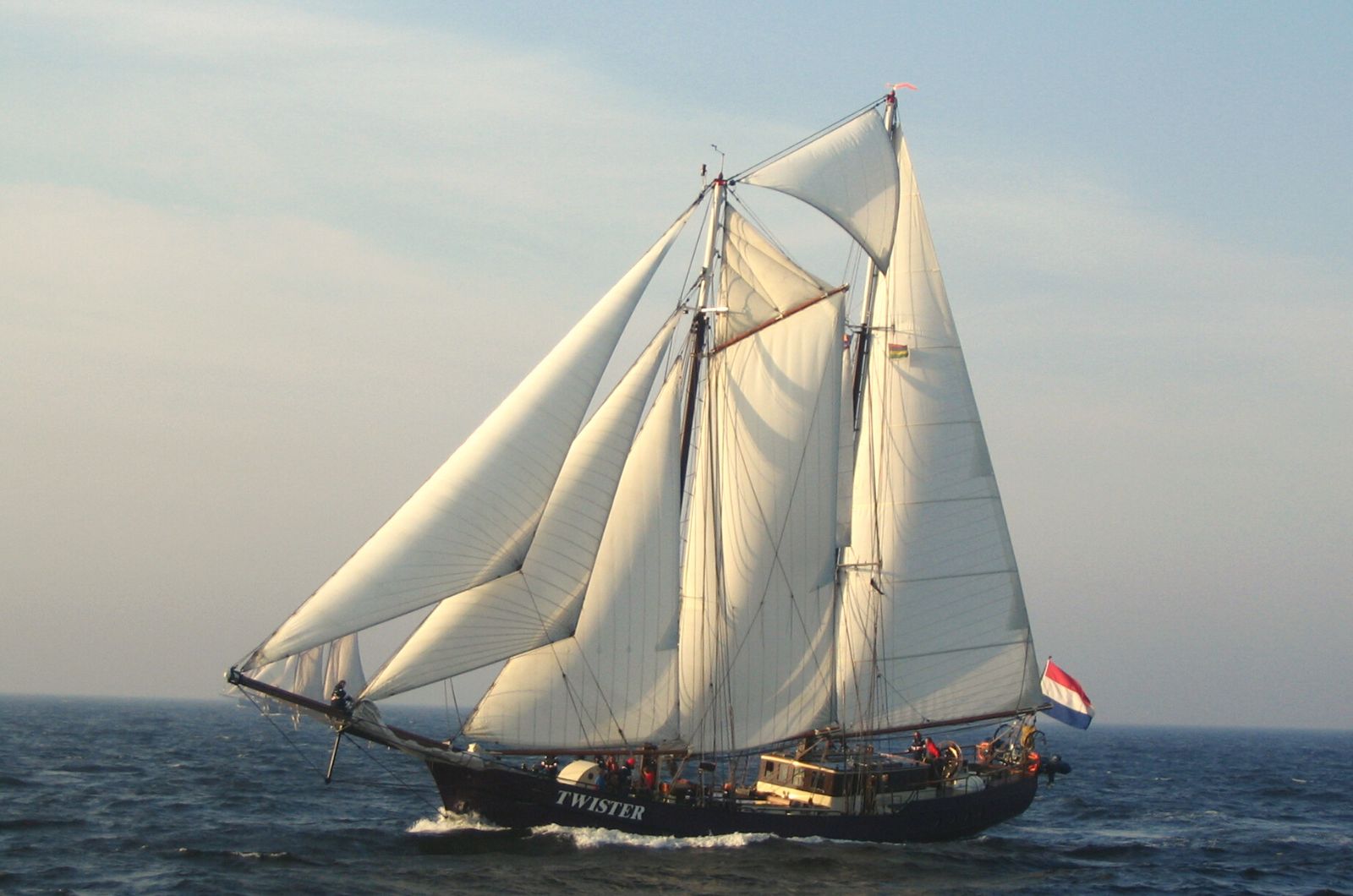 wants 3 crew for Twister, Custom Built Schooner, m.
From East Madeira, Madeira to Santa Cruz, Tenerife, Spain.
November 2022 to November 2022.
Calling ocean adventurers, mermaids, and changemakers to meet on our fleet. 13 trips ahead! Offshore Atlantic Sailing & Caribbean adventure / exploration style sailing We are filling the last 2 spots on our Leg Madeira - Canary Islands (For Netherlands - Madeira still a few spots available too) After a super successful voyage from the Netherlands to Madeira to the Canary Islands, And back! We continue our collaboration with this beauty of a classic Schooner. Winter 2022/2023 we will sail Netherlands - Madeira - Canary Islands - Cabo Verde - Across the Atlantic - Caribbean and back across to Europe. She's a classic 36-meter ocean-worthy schooner originally built in 1902. Driven by passion and purpose for the love of the ocean, discovering the best way to travel the seas sustainably. WE FACILITATE AND ACCELERATE Adventure Slow travel by sail, powered by wind, ruled by nature. Offshore and remote. On a 100+ year old hands on classic ship. No electrical winches here. With a bunch of 'strangers,' Expect the unexpected! Community Expand your network with insight and inspiration. We walk the extra mile to unite your soul tribe members on board. Connection and conversation at sea goes deeper in one day than months on land. Skill Building Learn and expand your seamanship, sailing, navigation, resilience, conscious living, adaptation & social skills. Exchange skills and stories with fellow crew members Lifestyle Gather tips and tools, to accelerate your journey to alternative adventurous conscious life on or near the sea. Impact We strive for minimum negative and maximum positive impact with our preparation & execution. The difference is in the details. A little about the boat, the plans, and the current crew share experience, share charter costs, visit remote places, seek adventure, fulfill a dream, learn a language, face challenges, live off the grid, multicultural The philosophy Our trips are about sharing and caring for the 'slow sailing' philosophy. The focus is on simplicity, health, local food and community connection, active, adventure and sustainability mindset, walking the talk, and collaboration. It's for the adventure spirits wishing to experience more of the world with sea travel, live simply, sporty, healthy, and after making a positive impact in the world that we call our playground. It's disconnection from everything but nature. We aim to make the voyage as impactful as possible with knowledge sharing, conscious provisioning, vegetarian cooking, microplastic research with our manta trawler and microscope. "WE MUST GO AND SEE FOR OURSELVES." —JACQUES COUSTEAU The Organizer Hello! My name is Suzanne. Having no idea about sailing a few years ago I boat-hitchhiked +27.000 nautical miles across oceans (4x Atlantic) and seas to learn as much as I can. I wrote a book about it all to help more of you go on ocean adventures. in 2018, I got my Yachtmaster Offshore license so I can take you sailing and share what the magic is all about! What excites me the most and what I believe can truly contribute to making the ocean healthier, is to share with others how beautiful the sailing lifestyle is, to see the big smiling faces, to share how beautiful the sea is, how valuable water and power is, what easy solutions we can implement to minimize our footprint and maximize our impact, and what happens when you put some a combo of happy / driven / curious / different nationality people together in a small boat. So many beautiful stories, moments and mini adventures to share! For the upcoming expedition, I've teamed up with a beauty of a classic vessel. She's 36 meters and allows for a not too small, neither too big group on board to create that community feel. I'm not the skipper but the organizer of the voyage walking the extra mile to curate a beautiful crew team. Here's what some of the previous crew says: "The experience on the boat and the efforst made to create a beautiful team was just really beautiful and I felt connected for the first time in decades, I felt part of a community and had companionship. I was so happy that it's so all-inclusive of gender race religion nationality and most importantly age. It has connected me with like-minded people of all ages and being very transformational personally because my life has been incredibly isolated as a single parent Who works from home. I can honestly say October and November I felt happy and free for the first time in maybe 22 years" – Cay "I always had the dream to go sailing one day. But, like many, I did not grow up with sailing and I thought it's something for the very wealthy. Now, thanks to this tribe, I know different.. Last summer I had my first sailing experience wit Suzanne and I initially signed up for one week, but ended up staying 1,5 months, and sailed as part of the crew with fellow members from Northern Spain to the Canaries Islands. On this trip, I met a lot of like-minded people with similar goals and dreams. I also realized that it is possible to learn sailing in a low-key, affordable way. After this trip, I got so inspired that I decided to buy my own sailboat. After some research, I decided to buy a previous sailboat of a fellow crew member that I just met, and together we sailed the boat from Ireland to Spain. Thanks to him I gained enough confidence to continue on my own. Without joining this tribe this would not have been possible. So if you are slightly interested in sailing, the ocean, meeting like-minded people and perhaps want to join a sailing trip in the future, join! " Nadiem "In my opinion, sailing adventures organized by Captain Suzanne are: 1. A reward for the senses by discovering incredibly beautiful places and breathtaking sceneries. 2. An unbeatable way to get introduced into the nice world of sailing, 3. An open window to learn watching our world and the people from another more conscious perspective. I see her as an inspirational person who, with her example, inspire others with ideas and proposals to define or redefine life projects and use inner energy for more noble purposes. Please gather support in every possible way at your hand for Suzanne. Our oceans need strong committed people like her to advocate for our natural resources and leave them intact for the generations to come." Jose - Sicily Crew 2018 "She has a deep love for the sea and she is helping others to experience the same. It was an amazing experience to sail with her. She constantly inspired us to explore, to test things out and enjoy her little surprises along the way. I highly recommend to sail with her and was always feeling safe with her at the helm." Matthias - Sicily Crew 2018 "The most unforgettable week. The trip preparation and the crew members turned what would otherwise be an adventure into something a bit more special. I took part in the Lanzarote sailing week earlier in the year. To say it was life changing sounds dramatic but it really was. Being able to share time and experiences with people with different backgrounds but of a similar mindset was incredible. I like to think that I can have and help contribute to a similar experience for myself and others as a member of the Flotilla crew." – Ben ( Lanzarote Crew 2019) "As soon as I hung up the phone I thought to myself "This trip is going to change my life".... and it sure did. So I packed up my life into a duffle bag a few months later, boarded the boat in Madeira and set sail towards The Canary Islands. Long story short, after I hopped on the trip and sailed off into the sunset, I was surrounded by amazing people and had the complete feeling of freedom I had hoped for. With little convincing from fellow shipmates during one of the monthly meetups, I also decided to take their advice and spend the winter in the canaries. This included...renting a caravan with fellow nomads. My lifelong dream has been to spend time outside of the US, explore different places, meet , new people and just live somewhere different than what I grew up with. If you told me this time last year that I would have spent the better part the last 365 days sailing around The Canary Islands,surfing in Ireland, sleeping in a van ALONE in England and writing this newsletter on an island in the Adriatic Sea, I would have rolled my eyes at you. But after joining a trip with Suzy little over a year ago my life has done a complete 180° ( in the best way possible) and I have the experience and so many of you to thank for that!" - Brianna
What roles/experience are needed (Crew 1): does not matter
What roles/experience are needed (Crew 2): does not matter
What roles/experience are needed (Crew 3): does not matter
Sailing with a Rally: Independent
I'm looking for (gender): either
Cabins/Sleeping : shared cabin-own bunk
Smoking on board: non-smokers only
Total people on board: 15
Crew roles: Ocean Adventurers, Explorers & Entrepreneurs with a drive for action, adventure and contributing to a better planet. No sailing experience necessary.
Money: daily contribution from crew $1350
Travel to and from boat: crew pays
Other Info: