This opportunity was posted on March 9, 2020
[ active ]

GREENLAND ROUND TRIP FROM MAINE United States to United States

ref 12328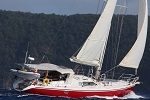 Philip Streat wants 2 crew for FAR, Garcia malibu, 16m.
From ROCKLAND, United States to ROCKLAND, United States.
May 2020 to August 2020.
Seeking crew for epic journey to Greenland. Sail with us from Rockland, ME to the West coast of Greenland via Newfoundland & Labrador and back to Maine. The boat is a very comfortable and solid 54' aluminum yacht built by Garcia. This is the builder of Jimmy Cornell's most recent boat, which he took through the NW Passage. We are looking for crew to sail from Rockland, ME to West Greenland via Newfoundland & Labrador. We currently have one crew signed on who is a good friend and has sailed with us before. We are a married couple in our 60's and have owned this boat for 14 years. We have sailed her in Turkey, Greece, Spain, Portugal, France, UK, Madeira, Canaries, Caribbean, Bermuda, NE USA, Nova Scotia & Newfoundland. We crossed the Atlantic in 2016. Phil has an RYA Yachtmaster Offshore certificate, Short Range & Long Range Radio cert, Radar cert, ICC. Lorraine has a USCG 25 ton Master inland, Mate near coastal license. We both have an RYA/ISAF Safety Course certificate and STCW Survival Techniques certificate.
Philip is currently based in rockport, United States
What roles/experience are needed (Crew 1): Watch-leader
What roles/experience are needed (Crew 2): Watch-leader
Sailing with a Rally: Independent
I'm looking for (gender): male
Cabins/Sleeping : shared cabin-own bunk
Smoking on board: non-smokers only
Total people on board: 4-5
Crew roles: We are looking for crew with some offshore experience and who can stand watches day or night. Also, must be willing to pitch in with all aspects of sailing including cleaning. Crew are expected to pay their own travel expenses, and make some contribution to food costs (to be discussed). Crew will need their own foul weather gear and suitable warm clothing. We are strictly non-smoking aboard and only drink in safe harbor situations. Crew needs to be available from late May through June, July & August. (We are somewhat flex with start date. End date may bring us back into September and we are flex and willing to drop crew off in Newfoundland.) We plan to leave Maine the beginning of June to work our way up to Newfoundland or Labrador as conditions allow to be in a position to make the crossing to Nuuk in mid to late June. We will then have July and perhaps some of August in Greenland before crossing back to Labrador and then returning to Maine by the end of August. In Greenland we plan to work our way from Nuuk up to Disco Bay and then run down to somewhere south of Nuuk for the departure. Our goal is to explore Greenland and have a great adventure! We would love to have a great photographer (drone), helmsman, fisherman etc...join our crew!
Money: daily contribution from crew $20
Travel to and from boat: crew pays
Other Info: