This opportunity was posted on June 16, 2022
[ active ]

Greece to Gran Canaria Greece to Spain

ref 13619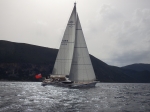 Hugh Johnson wants 2 crew for Nikitoo, Oyster 625, 19m.
From Lefkas, Greece to Gran Canaria, Spain.
September 2022 to October 2022.
We are looking for experienced and watch competent crew. Inexperienced folks looking to build miles need not respond please. We will only discuss this opportunity with folks who have built experience and can contribute to the running of the yacht and fulfill their watch keeping assignments. Anyone who brings engineering or electrical knowledge with be given priority. There will be owners aboard and one paid crew. Ideally this opportunity suits a couple the best since the cabin layout of Nikitoo accomodates couples most efficiently. If we reach Gran Canaria as friends then we would consider offering the chance to stay aboard for the Atlantic crossing to Grenada. The trip from Greece includes a weeks layover in Majorca where Nikitoo will compete in the Oyster Regatta but with an international race crew aboard so it will be necessary to spend one week ashore, or as rail meat !
Hugh is currently based in Ruse, Bulgaria
What roles/experience are needed (Crew 1): Watch-leader
What roles/experience are needed (Crew 2): Watch-leader
Sailing with a Rally: Independent
I'm looking for (gender): either
Cabins/Sleeping : own cabin-own bunk
Smoking on board: non-smokers only
Total people on board: 6
Crew roles: Experienced ocean going crew, mechanical and electrical abilities a bonus. A couple is best but singles can also be fitted in if necessary. Anyone with the necessary experience will understand what it takes to live together in a small space for weeks on end, primarily leave it the way you would like to find it and always, always put stuff back where you found it, possibly your life could depend on that someday !!! The owners are embarking on their 3rd Atlantic crossing having had to suspend a circumnavigation in New Zealand due to covid. The owners are experienced sailors with > 75,000 miles travelled, Nikitoo is their 3rd boat and second Oyster.
Money: daily contribution from crew
Travel to and from boat: crew pays
Other Info: