This opportunity was posted on March 13, 2022
[ active ]

Etoile du Sud from Hilo, Hawaii, to Seattle United States to United States

ref 13404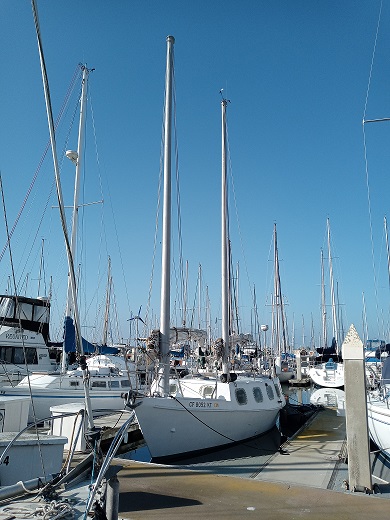 wants 1 crew for Etoile du Sud, Benford 34 Junk Schooner, m.
From Oxnard, CA, United States to Tacoma, WA, United States.
June 2022 to June 2022.
I am planning to sail Etoile du Sud from Southern California to Seattle, with intermediate stops in Puerto Vallarta, Mexico, and Hilo, Hawaii. Departure from Oxnard, CA near the end of March 2022; from Puerto Vallarta by the end of April, and from Hilo by early June. Crew of any gender and experience level are welcome to apply for the Hilo, HI to Seattle leg of the voyage, as I have full crew for the other two legs. I am looking for one congenial person with at least some sailing experience. Big pluses would be ocean sailing experience, and skills such as cooking, diesel maintenance, and a general willingness to pitch in and do whatever is necessary. Regular watch schedules will be arranged depending on the total number of crew. Three is the most desirable crew level (me and two others). At this time, I have one crewmember for the Hilo to Seattle leg but would like one more. Please apply by sending me an email telling me why you want to join this voyage, and describe your experience and skills. A Skype call will be arranged prior to commitments by you or me. Crew are responsible for arranging transportation to/from the boat. When I reach Puerto Vallarta, I will update the estimated Hilo departure date.
What roles/experience are needed (Crew 1): does not matter
Sailing with a Rally: None
I'm looking for (gender): either
Cabins/Sleeping : own cabin-own bunk
Smoking on board: non-smokers only
Total people on board: 3
Crew roles: People I can live with in a small space. Non-smokers. No drugs. Sailing and boat maintenance skills are desirable. The more sailing experience, especially ocean cruising, the better, but crew with limited experience and a desire to learn will be considered. This is a special opportunity to learn about junk rigged sailboats. For more information about junk rigged vessels, see the Junk Rig Association website.
Money: captain pays all expenses
Travel to and from boat: crew pays
Other Info: