This opportunity was posted on October 18, 2018
[ active ]

Cruising the Caribbean on Bowman 42 Grenada to Virgin Islands - British

ref 10268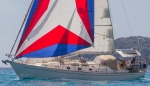 Jeremy Gassman wants 2 crew for Right Turn, Bowman 42, 13m.
From Prickley Bay, Grenada to Tortola, Virgin Islands - British.
January 2020 to April 2020.
We have cruised down from Portsmouth through Spain and Portugal, Madeira, the Canaries, Cape Verde and then crossed the Atlantic, arriving in St Lucia December 2018. . We will be cruising the Caribbean again for the season from January 2020. This is a relaxed cruise around the Windward and Leeward islands,stopping in idyllic bays, swimming, snorkelling, kayaking etc. I am looking for crew for approx 2-3 weeks duration. Some sailing experience required, also enthusiastic cooks particularly welcome! The boat, a Bowman 42 has a well deserved reputation as an exceptional blue water cruiser, and has been extremely well prepared and proven over the past 18 months. She crossed the line 2nd in class after crossing the Atlantic at a relaxed easy pace.
What roles/experience are needed (Crew 1): Watch-leader
What roles/experience are needed (Crew 2): Watch-leader
Sailing with a Rally: None
I'm looking for (gender): either
Cabins/Sleeping : own cabin-own bunk
Smoking on board: smoking allowed
Total people on board: 3
Crew roles: Crew will be involved in all aspect of sailing and running the boat as well as enjoying the idyllic cruising, swimming and visiting local islands. Most welcome is a reasonable interest and ability in cooking and eating good food! A reasonable familiarity with sailing is expected. We will hold a Skype call with prospective crew.
Money: expenses shared equally $1
Travel to and from boat: crew pays
Other Info: