This opportunity was posted on June 15, 2022
[ active ]

Corfu Ioniansea Greece to Greece

ref 13618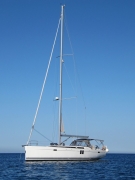 Ernst Ulrich Feistle wants 1 crew for SPELL, Hanse 495, 15m.
From Mandraki Marina, Greece to Mandraki Marina, Greece.
June 2022 to July 2022.
I can offer 1-2 berths for easy sailing / swimming around the Ionian Sea from and to Corfu City. Dinghy and SUP as well as diving equipment is on board. From 18.6. - 2.7 (or sooner). I'm alone so far and could use a hand to not be stuck in the marina; later I have a couple that will join, but the exact timing has become difficult because of an accident. Expenses for food & drinks shall be shared equally. The sailboat can be sailed easily by 2 for maneuvering, anchoring and berthing. Fully equipped kitchen and all necessary items for a save and pleasant trip. Corfu offers nice bays, good restaurants. The trip depends on weather and preferences - I'm here already since May and wait for my wife to join on 2.7.
What roles/experience are needed (Crew 1): does not matter
Sailing with a Rally: Independent
I'm looking for (gender): either
Cabins/Sleeping : own cabin-own bunk
Smoking on board: smoking allowed
Total people on board: 2-4
Crew roles: One or two easy going people, some sailing experience is appreciated.
Money: expenses shared equally
Travel to and from boat: crew pays
Other Info: