This opportunity was posted on October 21, 2020
[ active ]

ARC Baltic 2022 Superb Salamander Sailing in Denmark, Estonia, Finland, St. Petersburg and Sweden Germany to Sweden

ref 12556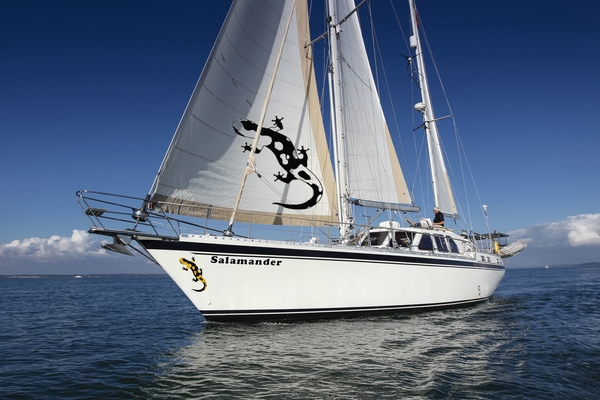 Christopher White wants 6 crew for Salamander, Nauticat 521, 18m.
From Rostock, Germany to Kalmar, Sweden.
July 2022 to August 2022.
A chance to join Salamander, a well known ARC participant, ARC 2017, ARC 2018, ARC 2019, ARC 202, ARC Europe 2019 and ARC Europe 2022. This promises to be a great opportunity to visit some famous European capital cities, UNESCO World Heritage destinations and some of the very best unspoilt sailing grounds, namely The Archipelagos of both Sweden and Finland. The Rally will be in two parts sailing Eastbound from Rostock in Germany, visiting Bornholm in Denmark and the medieval town of Visby (a UNESCO World Heritage Site) situated on the island of Gotland in Sweden, Tallinn the capital of Estonia and St. Petersburg the cultural capital of Russia. We return Westbound departing St. Petersburg for Haapasaari Island, Helsinki the capital of Finland, the Aland Islands, Stockholm and the Swedish Archipelago to Kalmar. Experience Scandinavian sailing at its best with passages ranging from day sails to single overnight passages. Try your hand at watch-keeping, boat handling, sail trim, navigation, VHF, AIS, radar, provisioning, boat systems, passage planning and weather forecasting by Iridium satellite or just sit back and relax. Great confidence building for sailors and non-sailors with all levels of experience including boat owners and partners who wish to sail further afield and are maybe thinking about or preparing for their own future sailing adventure to far off lands. Experience living on board an authentic ocean-going Round the World yacht. Enjoy your own berth in a shared cabin. Use the passage for mile building, essential for anyone working towards their RYA Yachtmaster Coastal or Offshore qualifications. Salamander has been featured in Yachting World. Crew can join either our Eastbound ARC Baltic Rally or our Westbound ARC Baltic Rally or the complete Eastbound and Westbound ARC Baltic Rally.
Christopher is currently based in Lymington, United Kingdom
What roles/experience are needed (Crew 1): does not matter
What roles/experience are needed (Crew 2): does not matter
What roles/experience are needed (Crew 3): does not matter
What roles/experience are needed (Crew 4): does not matter
What roles/experience are needed (Crew 5): does not matter
What roles/experience are needed (Crew 6): does not matter
Sailing with a Rally: ARC Baltic
I'm looking for (gender): either
Cabins/Sleeping : shared cabin-own bunk
Smoking on board: non-smokers only
Total people on board: 8
Money: voyage cost
Travel to and from boat: crew pays
Other Info: