This opportunity was posted on January 9, 2023
[ closed ]

ARC Atlantic 2023 – 14th Atlantic crossing with Salamander Canary Islands to Saint Lucia Canary Islands to Saint Lucia

ref 14025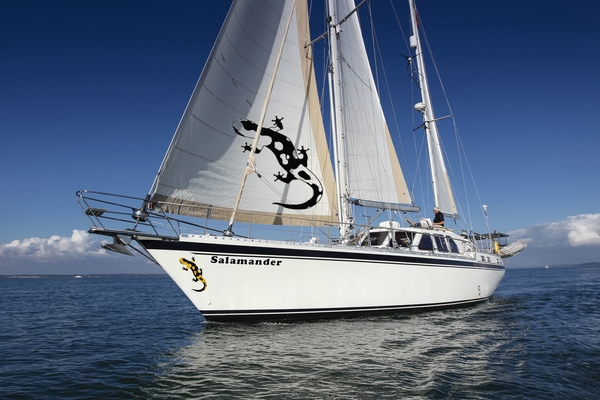 Christopher White wants 6 crew for Salamander, Nauticat 521, 18m.
From Las Palmas, Canary Islands to Rodney Bay, Saint Lucia.
November 2023 to December 2023.
Sailing across an ocean is sometimes described as the opportunity of a lifetime ... a bucket list event. We have already sailed round the world on board Salamander and this will be our 14th Atlantic crossing, and our sixth with the ARC, a regular and well known ARC participant with ARC 2017, ARC 2018, ARC 2019, ARC 2021, ARC 2022 and ARC Europe 2019, ARC Europe 2022. Available for charter in the Caribbean, during the winter, and the UK in the summer Salamander consistently receives great reviews. "Their welcome was warm and genuine and we felt they really cared about giving us a great experience." "We were looked after impeccably from start to finish, nothing was too much trouble." "Would thoroughly recommend the hospitality offered by this lovely couple". Salamander has been featured in Yachting World, UK TV and various international publications. We now look forward to sharing our next adventure with you. Salamander is probably the most comfortable yacht in the Racing Division offering traditional Sparkman & Stephens teak lined accommodation for a fun race across the Atlantic. Salamander was 1st in class in 2021. There will be no hot bunking on this passage! Everyone has their own berth. You will have the satisfaction of sailing across the Atlantic without the use of the engine, as the racing rules stipulate. This is a great mile building opportunity for anyone looking to progress their sailing or for anyone who is thinking about a round the world adventure in their own yacht. Sextant available for those wishing to take sights for Yachtmaster Ocean Theory. There will be ample time to ask as many questions as you like. #GetInTouch2GetOnBoard
Christopher is currently based in Lymington, United Kingdom
What roles/experience are needed (Crew 1): does not matter
What roles/experience are needed (Crew 2): does not matter
What roles/experience are needed (Crew 3): does not matter
What roles/experience are needed (Crew 4): does not matter
What roles/experience are needed (Crew 5): does not matter
What roles/experience are needed (Crew 6): does not matter
Sailing with a Rally: None
I'm looking for (gender): either
Cabins/Sleeping : shared cabin-own bunk
Smoking on board: non-smokers only
Total people on board: 8
Crew roles: All crew members are expected to be fit and will be invited to take part fully in all the activities on board including hand-steering and watch keeping in pairs, day and night, for the ultimate experience of sailing an ocean-going yacht under the guidance of a Round the World sailor. Crew are given the time to enjoy the sailing and are not expected to cook on passage on board Salamander unless you want to impress everyone with your favourite dish of course. Leave the preparation, the cooking and even the washing up to us! Salamander is a comfortable and safe way to cross any ocean. Salamander is known for being amply provisioned to provide a variety of tasty and nutritious meals inspired from around the world, every day, enough to satisfy any discerning guest, including the now legendary Salamander Fresh Fruit Salad served after lunch each and every day from Las Palmas to St. Lucia!
Money: voyage cost
Travel to and from boat: crew pays
Other Info: